Do a little downhill, then a little cross-country at these history-rich neighbors near Donner Summit.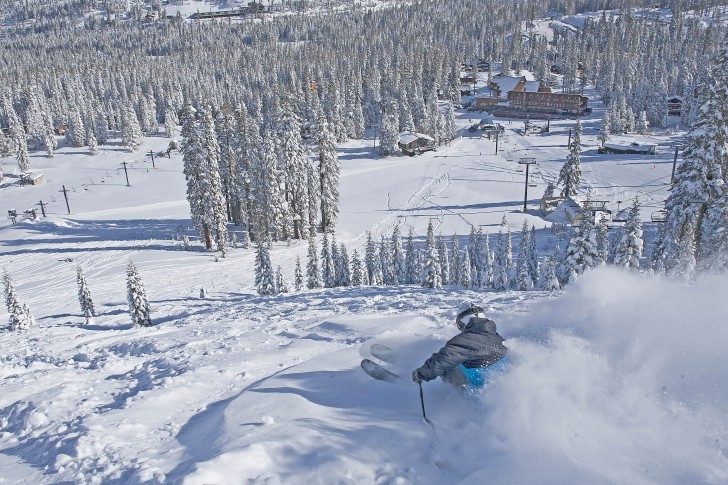 Sugar Bowl, the venerable ski resort that sits majestically atop Donner Summit, is as steeped in history as it is endowed with famously steep runs. In December, 1939, the Tahoe region saw the beginnings of its first major ski area when a small village with a Tyrolean-style lodge opened its doors and the one-person Disney chair (California's first chairlift and named after one of the area's early investors, the Walt Disney) started carrying ski enthusiasts up the mountain. The operation was the brainchild of the Austrian ski racer, Hannes Schroll, who had been heading up the Yosemite Ski School at Badger Pass, but was drawn to this cluster of Donner Summit peaks and its location in the path of the Sierra Nevada's most prodigious snowfalls.
In the 77 years since, the privately held Sugar Bowl has managed to retain its old-world charm, pristine mountain atmosphere, and overriding commitment to a quality ski and board experience, thanks to the members of the Sugar Bowl Corporation, some of whom are fourth- and fifth-generation descendants of the original founders. The members' surnames are a "who's who" of prominent San Francisco and Bay Area families, many of whom have owned cabins in and around the village for decades.
In 1953, Sugar Bowl launched its gondola, the West Coast's first aerial tramway, that carried skiers from the highway to the village, touted as "America's only snowbound village"—which today still exudes its original early-days-of-skiing ambience, and where Schroll's Tyrolean lodge, extensively updated and enlarged, still stands as the village's focal point. In 1983, the gondola was replaced with a faster gondola with more cars, and in 1998, Sugar Bowl opened Judah Lodge, a day lodge and parking lot half a mile east of the gondola parking area and situated at the base of Mt. Judah. In 2012, Sugar Bowl entered into an agreement with the Tahoe Donner Land Trust to lease and operate Royal Gorge, the largest nordic ski area in North America. Begun by Jon Slouber in 1971, Royal Gorge has more than 200 kilometers of set-track trails spread out over some 6,000 acres of spectacular high-mountain terrain. Although there are cross-country trails linking the two resorts, unless you're an advanced nordic skier, some climbing and side-stepping is involved; it's easier to drive between the two.
I first skied at Sugar Bowl back in the late 1960s when the gondola was called "The Magic Carpet" (wonder if Walt had a hand in giving it that name!) and triple and quad and high-speed chairs were not even dreamed of. Returning recently after an absence of many years, I was thrilled to see that Sugar Bowl is sweeter than ever, succeeding in transporting me back to the past while at the same time very carefully and thoughtfully bringing the historic resort into the 21st century.
Snow and Terrain (Sugar Bowl)
Snow, snow, and more snow! Sugar Bowl has the highest average annual snowfall—500"—of any Northern California ski resort. (Remember the Donner Party famously snowed in during the winter of 1846–47? They were trapped at the bottom of the summit just a few miles east of Sugar Bowl.) Powder hounds have a better chance of finding the fluffy stuff here than at most other wintersports resorts in the region. Location, location, location!
Vertical/Elevation: Sugar Bowl's 1,500-foot vertical offers more skiing and boarding than that vertical rise would suggest. The resort's runs snake down to a 6,883′ base at the village from the tops of four peaks: Crow's Nest Peak (elev. 7,954′), Mt. Disney (7,953′), Mt. Lincoln (8,383′), and Mt. Judah (8,238′).
Terrain: 1,650 skiable acres; 103 trails; 17% beginner, 45% intermediate, and 38% advanced.
Lifts: 5 high-speed quads; fixed grip lifts: 3 quads, 1 triple, and 2 doubles; 1 surface lift.
A trail runs through it: The 2,650-mile-long Pacific Crest Trail that goes from Mexico to Canada passes through Sugar Bowl, crossing several runs on Mount Judah before it drops over Sugar Bowl's ridge near a ski run at the top of Mt. Lincoln.
Snow and Terrain (Royal Gorge)
Snowfall: Awesome.
Terrain: 200-plus kilometers of groomed terrain spread across 6,000 acres.
Trails: 34% beginner, 42% intermediate, and 24% advanced; extensive network of "snowshoers only" trails; several "dogs allowed" cross-country trails between Sugar Bowl and Royal Gorge in the Lake Van Norden area.
Lot-to-Lift Access (Sugar Bowl)
If you're heading for the lifts at the village base, go three miles up Highway 40 from the I-80 Norden/Soda Springs exit and park at Sugar Bowl's Village Gondola parking lot. If you're staying at the Lodge, you can park in the covered garage. Once parked, head to the gondola for the seven-minute ride to the village. If you're heading for Judah Lodge and the Mt. Judah runs, continue one-half mile past the Gondola lot, and park at the main lot for Judah Lodge.
Lot-to-Trails Access (Royal Gorge)
Take the Norden/Soda Springs exit off I-80 and proceed up Highway 40 approximately 1/2 mile, turn right at the Soda Springs Station, then right on Pahatsi to reach the parking lot in front of Royal Gorge Summit Station.
Culture
The ambience at Sugar Bowl is unlike that of any other resort in Northern California: dripping with history (walls in the Lodge are covered with old photos going back to when Hollywood stars would bend elbows at the Lodge's famous bar, as well as original European ski resort posters from the 1930s)…a relaxed atmosphere (no cars, no crowds, short lift lines)…and an incredibly polite and genuinely friendly staff—from the lift operators to the wait staff in the Lodge.
Amenities (Sugar Bowl)
Dining: The legendary Belt Room Bar in the Lodge, which was recently remodeled for the first time in decades, offers casual dining, a full bar and is open daily from 11 AM to 10 PM; the Lodge's comfortable Dining Room serves dinner nightly, featuring French-inspired California cuisine and beautiful views of the mountain. The Nob Hill Café serves breakfast and lunch fare on weekends and holidays and the Sierra Vista Bar & Grill in Mt. Judah Lodge is open daily from 7 AM to 4 PM and serves breakfast and lunch items.
Lodging: The beautifully refurbished rooms in the Lodge look out onto the slopes and the Disney Express chair. Guests at the Lodge are given a locker for their equipment. From Sundays through Thursdays except holiday periods, several rooms are available for $199 a night.
Working out and kicking back: The new Sporthaus adjacent to the Lodge offers Lodge guests a lap pool, hot tubs, spa, sauna, yoga studio, and a roomful of cardio and weight training equipment.
Amenities (Royal Gorge)
The café in the Summit Lodge serves breakfast and lunch delectables and draws discerning café goers from miles around—everything is fresh, all-natural, homemade, and delicious. Trailside, Royal Gorge has one café and nine warming huts for when skinny ski skiers need to cool their heels.
Bottom Line
Sugar Bowl: Seniors get a little break on daily lift ticket prices: seniors 65–74, $84; super seniors 75+, $60; afternoon (12:30–4 PM) ticket prices: seniors 65–74, $72; super seniors 75+, $51. (The regular adult all-day lift ticket price is $103.) Online ticket prices: seniors 65-74, $71; super seniors, 75+ $51.
Royal Gorge: Senior nordic skiers fare a little better on trail passes—skiers 75 years of age and older ski free! All-day: seniors 65–74, $28; super seniors 75+, free; half day: seniors 65–74, $22; super seniors 75+, free. (The regular adult all-day trail pass is $33.) The adult rental package (skis, poles, boots) is $28. Royal Gorge has a terrific ski school with two pairs of practice tracks. When it comes to getting proficient on cross-country skis, ski school director Dave Eastwood has two words for you—timing and balance, and one image—be a tall Norwegian. He almost broke me of looking down at my skis!
Sugar Bowl trail map click here
Royal Gorge trail map click here
Royal Gorge web cam click here