[Editor Note: This personal account by contributor Harriet Wallis makes me smile. It appeared in SeniorsSkiing.com January 2, 2015.]
Start the Season Off Right: Know Where You Put Your Skis
It had been a glorious day on the slopes. Toward the end of that day, skiers and riders were coming off the hill and settling onto the patio to enjoy the late afternoon sunshine with some beverages and live music. Before I could join them, I had to park my skis, but it was nearly impossible to find an empty slot in the racks.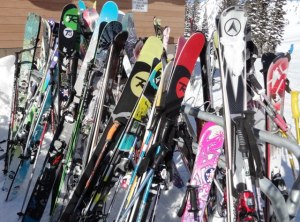 With so many people and so many skis, I reasoned that it might be easy for someone to grab the wrong skis when they were ready to head home. To prevent such an accidental mix up, I put one ski in the rack and placed the other against the building. They were old skis, but they were my only skis, and I didn't want them to go home with somebody else. With one ski here and the other ski over there, I was sure my skis would be waiting for me when I was ready to leave the mountain.
And sure enough, skis were waiting. I gathered one ski from the rack and the other from against the building. I threw them into the car and headed home.
A few days later – just as I was ready to ski again – I picked up my skis and was horrified. They didn't match. I had a 170cm ski and one that was 163 cm. They were identical except for the size. Same ski, same integrated binding. Just different sizes!
I replayed the scenario in my head. I had put one in the rack and the other against the building. But another skier had done exactly the same thing – one ski in the rack, one ski against the building. And I had stolen a ski that belonged to somebody else.
I made frantic phone calls. My ski was waiting in the resort's lost and found. When I retrieved it, there was an angry note taped to it saying: "It was the last day of my vacation, but I had to fly home to North Carolina with only one ski. Someone stole my other ski."
I shipped the 163 cm ski to her immediately, and I included some goodies as an apology.
But when I told my son, he capped the matter. "Mother, I told you to use a ski lock. Now do it."
Kids. We raise them with our wisdom, and then they turn around and give us a dose of their wisdom.