To whom it may concern,
Vail's 80+ Northeast Value Pass for $ 45 (+ $4.95 shipping & handling) is a hidden treasure that is NOT on their website, is basically unknown, is VERY hard to get accurate info about, and ONLY is in effect to the "Northeast" Areas which includes Mid-Atlantic and Ohio!! People on the toll free line insist it does NOT exist…but it does…confirmed by 2 independent Vail employees…
This from an email exchange with Vail: "Since the 80+ Northeast Value pass is a pass that not many people are able to buy (Guests have to be 80 Years old or older to buy), it is only available to purchase by calling our guest services team or by email. It is not a product we advertise for the general public. You may also call our guest services team to have them assist you in buying your 80+ Northeast Value Pass. When calling our number, I will suggest pressing the extension number 4 to get to someone who is located in our Colorado call center. Please note, the 80+ Northeast Value Pass is part of our product line, please don't let the agents tell you it doesn't exist, it does. Our guest services phone number is: (970) 754-0005. "
Unclear if this pass will be physical (probably)…or part of the program to put it on cell phones (which I think will be problematic)….I asked…and the answer was mumbo-jumbo…and I don't really care….so did not follow up.  I can get a full season of skiing at Whitetail for less than a senior day ticket….seems wise economics to me!!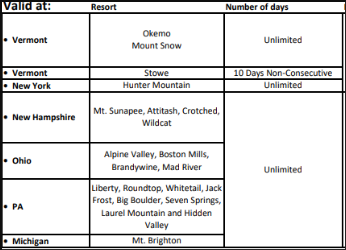 The fine print says 10 NON-CONSECUTIVE days at Stowe (my former home town)….I found out that "non consecutive"  means: can but need not be consecutive……ie I can ski at Stowe 10 consecutive days or 10 random days during the season…..
David Putnam