This Venerable Mountain Is Super Senior Friendly.
Returning to Cranmore Mountain in North Conway, NH, is like coming back to the basics. You will not find flash, large verticals, or multiple-piste skiing.  No heart-stopping double diamonds.  You will find like-minded senior regulars gathering in the little lodge, classic New England narrow trail skiing as well as broad, open blue cruisers. Low key skiing comes to mind.  We like that.  There's lots of room for skiing mid-week, and the prices are definitely right, if you know how to look for discounts.  We like the snowmaking.  Even in this season of eastern snow drought, there was decent coverage and highly carvable snow.  And we like the community feeling among the other folks, even in the ski shop, rental desk and cafeteria.
History
If you've never been there, skiing at Cranmore in the Mount Washington Valley is something of a pilgrimage into skiing history.  In 1937, local businessman Harvey Gibson founded the ski hill, put in a rope tow and so it began.  In the next two years, two big innovations came to Cranmore. First was the Skimobile, built straight up the middle of the mountain.  The Skimobile consisted of little cars traveling uphill on a wooden rail. It was a practical, New England-simple alternative to the lift system, contemporaneously making its first North American  appearance at Sun Valley. It's hard to believe that the Skimobile lasted till 1988.  The other innovation was the
arrival of Hannes Schneider from Austria.  Schneider expanded the nascent ski school, extended the Skimobile and carved trails that you can ski to this day. Hannes Schneider had an enormous impact on ski instruction and, in many circles, is considered as the person who opened up the sport to the masses back in its early days.
Snow And Terrain
Snowmaking is an art at Cranmore.  The snowmaking team publishes its own blog and methodically covers the entire mountain when nature is not forthcoming. As for trails, there are 54 spreading out from the summit served by nine lifts of different sizes.  On the left side of the mountain, you find the archetypal narrow, twisty, old-style New England specials like Kandahar, Rattlesnake, Arlberg. These narrow trails get slightly U-shaped in cross section as the season goes on, so it's almost like skiing down a tube.  On the other side of the mountain,  you get those beautiful wide blues that we love.  Artists Falls, East Slope, and Schneider are great blues, Easy Street is a greenie that runs from the top and one that we like to take as a first run to shake off the dust from the ride up from Boston. And yes, there are terrain parks and glades for those who indulge in those kinds of activities.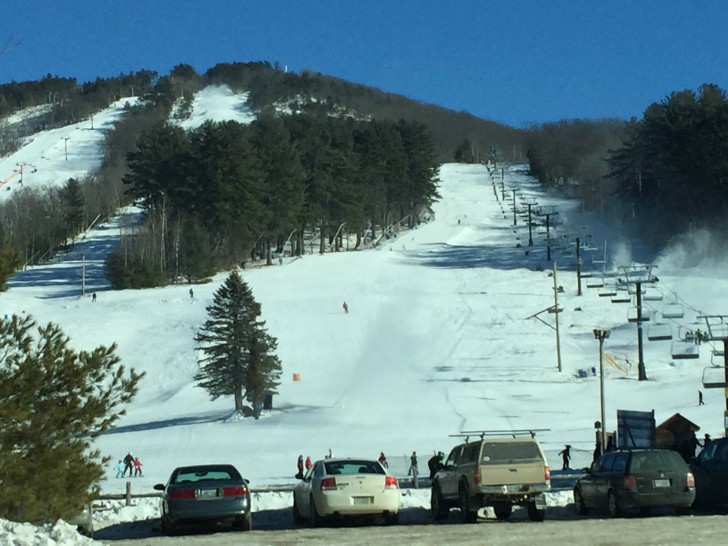 Lot To Lodge To Lift
Cranmore's base is small and compact.  You can drive up to the lodge, drop off your stuff, park and walk the 100 yards or so back to your car.  It's easy.  The lodge is small, but it is on a couple of levels.  That's the only criticism I can think of.  Bottom level: lockers, changing area and rest rooms, next level cafeteria and lodge.  Many seniors just park their gear around the lunch room area and change there, walking out to the lifts which are an easy skate away.
Culture
It may be a slight exaggeration, but I think that during the week seniors own the mountain.  Lots of seniors show up in the morning, take some runs and many are gone by 1:00.  Obviously, they are season pass holders who come in groups, singly, in pairs and who schmooze over coffee and packed lunches before heading home.  Everyone we met was  cheerful, chatty, and friendly.  At about 2:30 or so on the several Thursdays we visited, school buses descended and lots of kids poured out to take lessons.  North Conway clearly has an enlightened Physical Education program at the local district.  There is a bar and separate restaurant at the base.  We imagine those are weekend magnets that weren't busy on Thursday afternoon.
The Future
A group of Boston entrepreneurs purchased the resort in 2010 and have plans to rebuild the whole base area around a new condo village.  Right now, the condos are on sale , and whenever construction starts you can bet the culture is going change.  The good news is that there will be a future for this historic and important ski area. The other news is that the quirky little lodge will be gone. Cranmore will eventually become more of a year-round residence-resort. Regardless, the mountain will still have those classic trails.
Bottom Line
Seniors are treated nicely at Cranmore.  We bought a $29 weekday senior (65-79) lift ticket online. Weekend tickets bought online are $40 for seniors.  Weekday passes are $48 for seniors if you don't buy online.  When you look online for passes, you will notice that prices vary by week and what's going on, i.e., Washington Birthday Week, school vacation week, etc. Seniors can buy a season pass before the end of November for $369 for limited skiing and $429 for unlimited.  Check the website for more details.