It Is Hard To Beat These Lift Ticket Prices For 70+.
I learned how to ski at Stevens Pass, so whenever I return, it feels a little like a trip back in time.
The lifts are updated, of course, but I can't help reminiscing about those days more than a half-century ago as I learned how to make a parallel turn on the rugged slopes. For many skiers of a certain age who grew up in Seattle, Stevens Pass served the same purpose.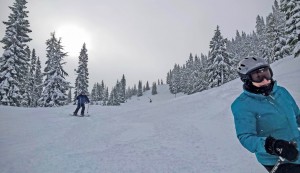 On this trip, I arrived to a classic late-winter storm that brought 10 inches overnight. Instead of the narrow wooden skis of my youth, it was a day for rockered powder planks. As the morning progressed, the skies cleared, revealing Stevens' dramatic scenery.
If I can hang on for a few more years, Stevens will offer another reason to return: exceptionally low pricing for 70-and-older skiers.
Snow, Terrain and More
Location: The ski area is 75 miles east of Seattle on U.S. Highway 2, a major east-west route through Washington state. It takes about 1½ hours to drive to the ski area on good roads.
Snowfall: More than 450 inches fall annually on Stevens' 1,200 acres. The pass is often in the stormtrack for Pacific systems that hit Washington, with major dumps a common occurrence.
Terrain: The "frontside" is dominated by two peaks rising from a base of 4,061 feet: Cowboy Mountain (5,845') and Big Chief Mountain (5,600'). The "backside" is called Mill Valley and drops from the top of Big Chief Mountain into a south-facing basin that bottoms out at 3,821 feet. About 35 percent is rated advanced, with 65 percent rated beginner and intermediate. A large and popular terrain park is located on the Brooks Chair, keeping the boarding tricksters in one location.
Lifts, lights: Stevens is designed to handle large crowds. Three high-speed quads ferry passengers, along with four triple chairs and and three doubles. Much of the frontside terrain is lighted for Stevens' popular night-skiing.
Lot to lift access
Parking is a problem on busy weekends and holidays. Arrive early. On weekdays, it's much better, but you still may need to park some distance from the base area. A passenger and gear unloading zone is available near the lodges.
Bus and shuttle services bring passengers from Seattle to the sometimes-busy area.
Accommodations: Stevens is an easy day trip from Seattle. The best option for overnight lodging is Leavenworth, Wash., a tourist hub 37 miles to the east.
Culture
The vibe: Stevens is a big resort, but it's much less tony than rival Crystal Mountain. A fun-loving party scene occurs during night-skiing.
Dining: The base area has three lodges with busy bars and restaurants and the best coffee (T-Bar Market) of any ski area in the Northwest.
Bottom line
If you're 70 and older, your ski day is a bargain: Just $15. Regular adult passes (ages 16-69) are $69 during peak days and $64 for off-peak days.
Grooming is exceptional on the area's lower slopes. Upper-elevation lifts take skiers into a challenging world of powder and steeps.
The south-facing Mill Valley side offers sunny-day exposure in an open bowl.
Stevens Pass Webcam Click Here