If You're Buying, Know Before You Go.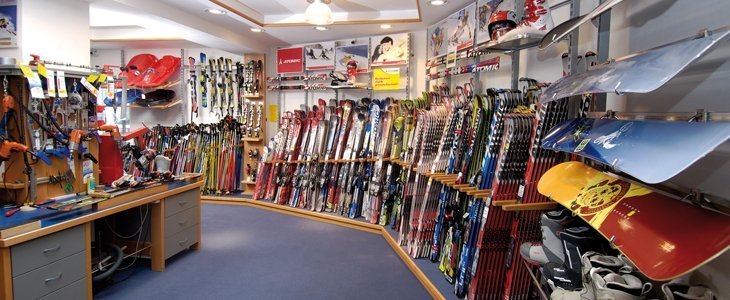 This is the time of year when a lot of people buy ski equipment for the upcoming season.  Ski swaps, retail sales, online blowouts, etc. are all in full swing once the weather starts to turn cooler.  But aside from the great deals, caution should definitely be applied when purchasing equipment.
As a ski instructor, I have seen the most ill-fitting and inappropriate equipment on students in a ski lesson.  The classic answer is, "I got it on sale."  So, here are some suggestions that might help folks in this season of "great deals" especially our senior skiers:
•  Ski Boots are the single most important piece of equipment a person can buy.  Two critical features are fit and flex.  I have seen  too many seniors buy boots at a sale and try to fit them post-purchase.  My suggestion is find a good boot fitter at a reputable shop and take the time to have them fit you properly.  There are a lot of aftermarket liners available today like Intuition Liners, that are an excellent custom accessory to any good boot fitting procedure.  The second feature to think about is flex.  Many of us senior skiers still think of the past when we skied more and had the strength to properly flex a race boot.  There are so many options today that it you don't have to purchase a "fire hydrant " of a boot with a stiff flex.  Not only does it affect your performance, but an ill-fitting race boot can ruin your day.  The ankle is the most crucial joint in skiing and to properly flex your ankle is essential in executing a good carved turn on a pair of skis.  The flex should be even and allow for that micro-adjustment of pressure applied to a ski in the critical phases of turn shape.  So, senior skiers, take it down a notch and take the time to be fitted properly and allow time to see how the boot fits and flexes in the shop.  You will be much happier on snow.  Here's some advice from REI on selecting ski boots. [Editor note:  Also check out our advertiser MasterFit here.]
• Bindings have a DIN setting available on bindings that allows for the weight and expertise of the skier.  Race bindings can start at 12 and end at 18 DIN or higher.  Even if you back the bindings down to the lower settings, chances are that type of DIN setting will not release for most skiers.  It is better to have a binding that has a single digit DIN setting on the lower end and ending around 14 or so.  If properly set, the DIN should be somewhere in the middle to make the binding the most functional.  I have been skiing for 55 years and am in pretty good shape but my setting is around 11.  Look at the DIN and see if there is an option that would give you a better choice, especially as a senior skier.  Here's a DIN setting calculator.  Go to a pro to get this right.
• Skis have become condition-specific.  Don't buy wide underfoot skis if you are mostly skiing the groomers in the East.  On the flip side, race skis like GS boards or slaloms with ample sidecut and more narrow underfoot, will submarine in powder conditions.  Consider the conditions you will ski and purchase accordingly.  Also, like boots, race equipment may have been the choice a number of years ago, but as senior skiers, a more forgiving flex pattern will make the ski day more enjoyable and longer.  Executing the turns is the key not how cool the skis look in the rack.  Guidelines for picking skis are here from Backcountry.
•  Tuning is often skipped, but easy to get done. Get your skis tuned at least once a year on a Wintersteiger machine found in many good ski shops.  There are other machine options also that can provide a flat base and a beveled tune to your liking.  A properly tuned ski makes all the difference in the world.
All in all, the message is "Don't be a hero."  Recognize your ability as an older skier and if you can still "arc em", get the high performance stuff.  If you don't ski as much, back it down a bit and enjoy equipment that fits properly.
Think Snow.
Here's a demo of the Wintersteiger tuning machine.