It's Never Too Late to Take A Lesson.
William Smith, age 91, started skiing at Mt. Cranmore, N.H., after WW II. His wife even took lessons from ski legend Hannes Schneider. She quit skiing when she was 73, but Smith continued. He was skiing with his son that morning when I rode the lift with them at Waterville Valley Resort, N.H. Father Smith taught his kids and grandkids to ski, but he doesn't want to take lessons himself.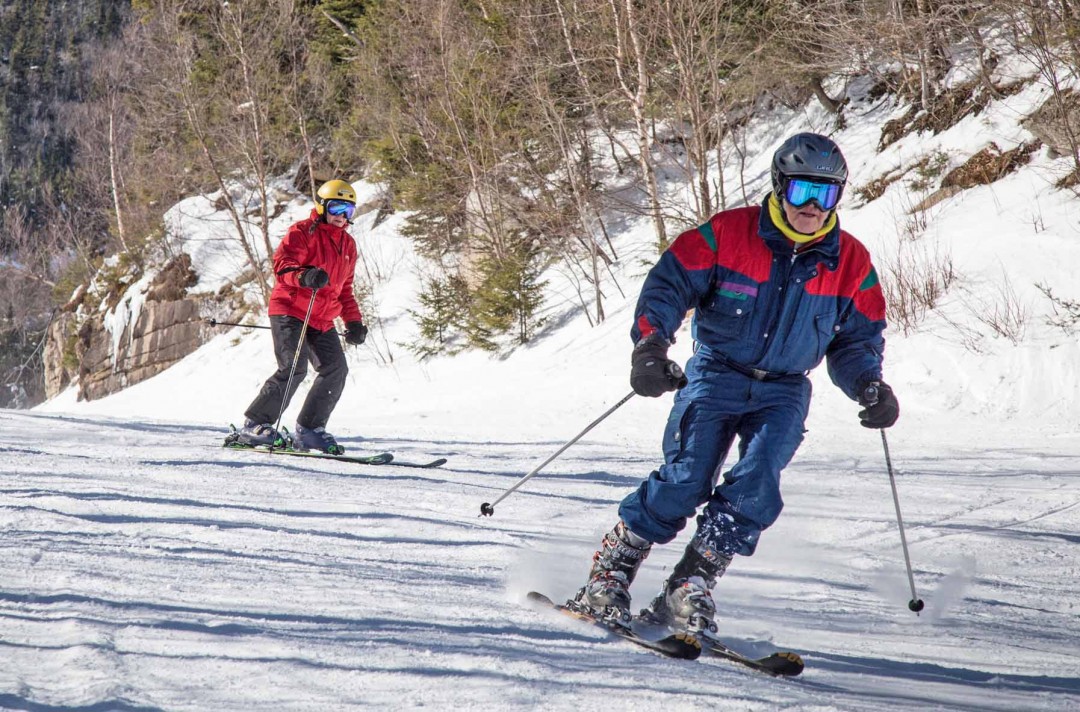 "I'm skiing as well as I'm going to. My legs aren't holding up as well." I then watched him push off down the slope swiftly in well balanced short parallel turns. So much for weak knees.
Like Smith, many seniors are skeptical of what they call teaching old dogs new tricks, unless they plan to do something very different, like ski powder in Utah for the first time.  However, a senior ski lesson can actually lead to more enjoyment.
"Most senior skiers like the medium to long radius turns and cruising the mountain and enjoying it," says Peter Weber, Snowsports Director at Waterville Valley Resort for 15 years. But that is no reason not to ramp up your technique.
"Whether you're 7 or 77, technique trumps all. The better you are technically, the easier everything gets," Weber says.
In teaching seniors, an instructor would most focus on pacing—how fast you ski, how many time outs for trailside chats vs. pushing top to bottom runs, and the need for biobreaks.
Fitness level in general is key, adds Weber. "Skiing anything above a moderate level is an athletic endeavor," he says.
Like other resorts with comprehensive snow sports schools, Waterville Valley Resort matches you to the right instructor, so you don't end up in a class with a bunch of young hot shots. Weber also recommends a private lesson as well as taking several group lessons.
Mark Hanabury, an instructor at Waterville Valley, says, "I think it's more important for seniors than anyone else to take lessons." He feels seniors will be safer and will enjoy skiing more if they embrace the new techniques including a wider stance and shorter, wider shaped skis.
"Skiing has evolved so much," he says.
He knows first hand. Last year,  he took his dad Dick Hanabury, age 83, to ski Snowbasin, Utah, after convention in Las Vegas.
"He's been an avid skier all his life and skied on long Head Standard skis when he was younger. I told him he had to retool his techniques to ski safely at his age. I drilled it into his head," says Hanabury.
"My dad's outside ski was getting hung up. He was used to stepping onto the outside ski, but his balance wouldn't allow that. So, a fellow instructor told him to slide the ski forward and free it up. That allowed him to keep both skis on the snow so it was no longer a balance issue," says Hanabury.
"My son Mark is keen on knowing the latest technique, so he's done a good job for helping me to keep up as far as turning techniques," says Dick Hanabury.
"I used that technique, letting the skis do the work, not throwing your body into the turn but just weighting the skis properly and making sure the outside ski in the turn is well weighted, that's about the best way I can explain it," he adds.
"If you're in good condition, I would recommend skiing at any age. I play tennis a couple of times a week, exercise daily, so I'm ready when the time comes," says Dick Hanabury.
No matter if seniors are updating old technique or learning for the first time, "I feel it is never too late to learn. Skiing is a dynamic sport and seniors enjoy learning just as much as younger folks. This enables them to ski longer and enjoy more terrain with family and friends," says Mark Hanabury.
Many ski areas have created programs for those interested in new movement patterns associated with shaped skis or improving techniques. They list these programs on the resort website under the snowsports school tab.