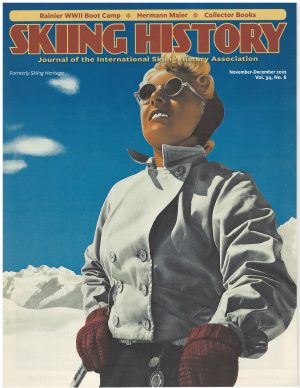 The Herminator Turns 50, Collecting Books and a US Ski Team Reunion
The November-December issue of Skiing History magazine is on press, but you can read it now, online.
The Herminator Turns 50: Top story comes from Patrick Lang, who recently retired after a lifetime covering the Alpine World Cup circuit. Patrick summarizes the career and bucolic retirement of Hermann Maier. During 11 seasons the Herminator won 54 World Cup races, four overall World Cup titles 10 discipline titles, plus 10 Olympic and World Championship medals, including five golds—and he came back from nearly losing a leg in a motorcycle accident. Now, Patrick reports, Maier lives quietly and secretively, protecting the privacy of his wife and young daughters. 
Boot Camp on Mount Rainier: A week after Pearl Harbor, John Woodward and Paul Lafferty began teaching recruits in the 87th Infantry Regiment how to ski, working out of a lodge on Mount Rainier. Their greater purpose, according to author John Lundin, was to figure out how to train the thousands of troopers who would, within the next year, become the 10th Mountain Division.
Caroline Lalive and Nelson Carmichael: After earning America's first Olympic medal in freestyle, two-time World Cup champion Nelson Carmichael went home to Steamboat – where he married Alpine Olympian Caroline Lalive. Edith Thys Morgan catches up with them.
A Dusty Passion: Everything you need to know about the collecting rare books about skiing. Meet the history nerds who love old books. Maybe you're one of them.
Other stories:
And: Ski with the ISHA gang at Big Sky Resort, March 21-24. We'll hold our 31st Annual Awards Banquet there on March 22. Be there!