Ski All Day Without Struggling With Tired Legs, Sore Knees And Aching Hips.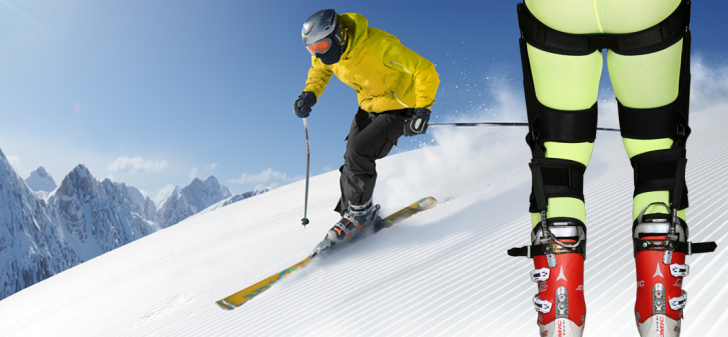 Ski~mojo has certainly been the savior of many a skier, keeping them on the slopes for longer – whether that's more time on the mountain during a day or more years to enjoy the sport. Endorsed by both the PSIA in the U.S and BASI (British Association of Snowsports Instructors) in the UK, Ski~mojo has fans who span the ability spectrum from weekend recreational skiers to full-time instructors.
Refined over the past ten years since its inception, Ski~mojo's design is incredibly effective, light and slim to fit easily underneath most ski pants without anyone else even noticing they are being worn. The comfortable harness is easy to fit, and once it's on, you just forget it's even there.
With a simple flick of a switch, you can turn the powerful springs on or off to suit your skiing needs – even if you just need the Ski~mojo for the final hour of the day, it's there to keep you going and potentially keep you safer as your tired legs struggle to cope with the demands of modern skiing. Yes, we ski more today because lifts are so much more efficient in many ski areas, we get more mileage done in a day but only notice it when we try and walk later on that evening!
Who's the Ski~mojo for? Well, any skier really but obviously if you've had knee issues or get pain in the legs and hip area then it's a totally legitimate tool to help you enjoy the sport you love. Of course, some skiers purely like the fact it gives them more power through the day and they can ski strong and hard until the lifts close down.
But what do real users say about it? These are skiers who have purchased a Ski~mojo and have written genuine, independent reviews of their experience:
"Without this kit, skiing would be half the fun for me. I will never ski without it again."
"I don't know how my shot knees would manage without it."
"If you want to ski with people half your age, with little or no pre-trip fitness training and be rushing for the last connecting lift of the day – all without leg ache, get Ski~Mojo."
"Thought I'd have to give up skiing but not with Ski~Mojo. Three straight days in the powder – no pain, no swelling – just epic skiing."
"I cannot find any part of the Mojo that needs improvement. Having said that, past experience shows that you continue to strive for improvement. I thought that the Mk 1 Mojo was the best piece of kit of its type on the market then and I believe the Mk2 improves that position even more so."
Click here for more reviews on the Ski~mojo website review section.
So if you're planning to ski this winter, or if you're now thinking about giving up because it's just too painful, then why not try ski~mojo – it might just give you a new lease of ski life like it has for 1,000's of others.
Ski~mojo can be ordered via www.skimojo.com and shipped to most countries, including the USA and Canada.