At Last, It's Cold In The East, Poll Results, Resort Reviews and A Ski Hero Profile.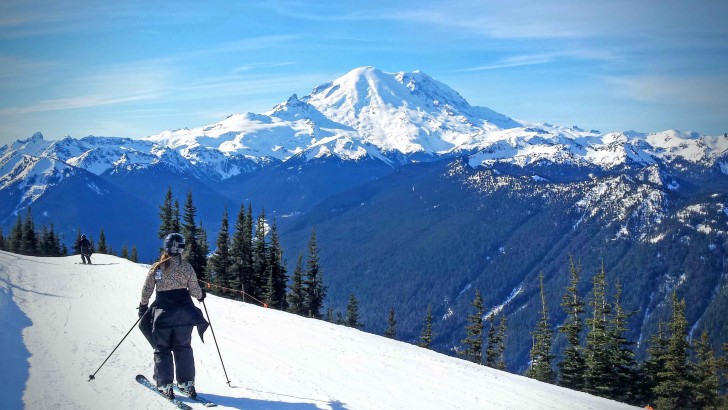 All those hopeful prayers and skyward glances are paying off for the snow businesses on the eastern side of the North America. An arctic air mass followed this week's innocuous snowstorm, and, for snowmaking from the mid-Atlantic to Maine and Quebec, it's game on. Contrast the feeling of relief if not ebullience to last week's dour ski condition report from Bromley and Mad River Glen. And just in time for school vacation week. Single digits upcountry this weekend. Whew.
In fact, we took advantage of the change in weather to sneak away to North Conway, where we are writing this by the side of a roaring fire at the Cranmore Inn.
We have the results of our latest reader poll that asked about our readers' stretching habits. The results are a bit surprising—perhaps you'd like to comment or interpret. Stimulated by these polls results, in a few weeks we will have a report on stretching and senior skiers; apparently, some folks need some motivation out there. Stay tuned.
San Francisco correspondent Rose Marie Cleese reports on what we feel is a very important event for senior skiers. It's a Master's Clinic, held at Dodge Ridge, CA, where seniors get come intimate coaching on their technique, all intended to reduce strain on joints and muscles and to shift the hard work to the skis. We feel this is the kind of event ski areas can hold for their senior clientele. It pays for itself, and everyone benefits. Expect to hear more about low-cost, no-cost senior events on these pages real soon.
We have two resort reviews this week. Crystal Mountain near Seattle boasts of being the largest resort in Washington. From the pics that John Nelson, our new Pacific Northwest-based contributor submitted, it certainly has the best views of Mt. Rainier.   SeniorsSkiing.com's staff also visited Appleton Farms in Ipswich, MA, describing the magnificent, historic property, ideal for cross-country skiing and snowshoeing. While not a resort, per se, it is a snow enthusiast's perfect retreat from the humdrum.
Finally, we are honored to have Joan Wallen, president of the North American Snow Journalists Association, Eastern Region, send us the story of New Hampshire's 90-year-old Bebe Wood who started skiing in the 30s, ski bummed out West in the 50s and has been involved with the sport at all levels to this day. SeniorsSkiing.com loves to salute ski heroes like Bebe and if know of any others, please let us know.
Preview
Next week, we have more Resort Reviews, a look back on America's biggest cross-country race, held on Washington's Birthday in Vermont. Alas, it is no more, but some say it put Nordic skiing into play on this side of the Atlantic.
Please respond to our new poll question in the blue box on the right. We want to understand how optimize the FORUM for our readers; it's the best way for our readers to talk to each other.
Also, we know that our readers are seriously interested in discounts. We are working very hard to bring you some very cool deals. Watch this space.
Tell your friends about SeniorsSkiing.com; there are more of us every day and we aren't going away.