Improve Your Balance, Wear The Newest Fabric And Protect From The Sun.
Outdoor Retailers Summer Market Tradeshow is the largest show of its kind in the U.S. where manufacturers strut their products and retailers place orders for next year. The massive show has over 1,500 exhibitors, and it covers acres within Salt Lake City's convention center.
A few passes are issued to media writers and photographers—such as SeniorSkiing.com. That's how I got in.  Here are some of the most interesting senior-oriented products I discovered.
Get balanced. Take it from Louis Stack, you can age gracefully if you keep your body's balance. This former Canadian speed
ski champion—clocked at 127.33 mph—crashed at a pinnacle of his career, and it destroyed his knee and both feet. In the pits of his adversity, he was determined to restore his health, his balance and his race career.
And so he invented the first ski cross trainer which he lugged from race to race around the world, using it to fine tune his balance and stay fit. Athletes loved it. Physical therapists loved it. So this racer-turned-inventor went on to create the "wobble disc" trainers and other balance boards for all levels of athletes. He now has gentle balance trainers for those who stand at workplace desks. Check Stack's website Fitter1.com here.
"Maintain your balance and you'll age gracefully," he says. "It's like brushing your teeth. You have to do it to prevent problems."
My chiropractor has Stack's "wobble disc" and I love using it. I teeter on it and sharpen my skiing balance. But until the recent Outdoor Retailers show I had no clue who invented the disc or why. Now we know.
Newest fabric technology. Another top find at the show is a thermo-regulating high tech yarn/thread called 37.5. Instead of wicking away moisture after you sweat, it carries away vapor before you sweat. By regulating the body's temperature, elite athletes' performance increases as much as 26 percent.
"It's in the DNA of the yarn," says Tim Rogers, a company VP. 37.5 is being woven into high end athletic wear as well as Kenneth Cole men's business suits. Nobody wants to sweat during an important business meeting.  Click here for more on the 37.5 technology.
Sun protection. Joshua Tree sunscreen isn't new, but its zinc content makes it work really well, and it doesn't feel gooey. It doesn't advertise and it's not sold in mass market retailers, so you'll find it in specialty shops such as Christy
Sports. In addition, it has branched out into after-sun care and also arthritis cream.  Click here for a store locator.
Nifty Back Stories:
Stay warm. Chris Treptow grew up in Wisconsin and knew what cold weather was. When she attended Badger football games, she and other fans would stuff newspaper into large trash bags, step into them and pull them up around their waists to fend off the brutal cold. She went on to found Heat Factory, the air activated hand and body warmers company.
Belts, dogs, guitars. Croakies woven belts include hundreds of designs for all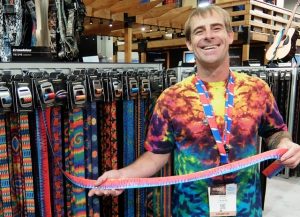 sports. As a fisherman, I love the trout designs. It also has dog collars and guitar straps. The company hired tie-dye artist Jeremy Strebel to design that line of colorful belts.