More From Jackson Hogen, Snow Sierra Superlatives, Seniors Like Online, Good Lesson Criteria.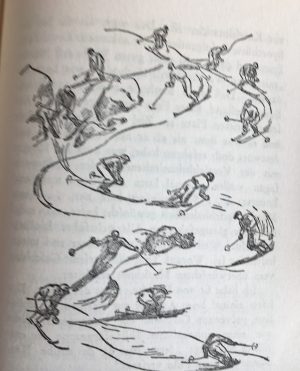 This week, we notice there are a number of resorts in New England having their final runs. Lifts are still spinning for a week or perhaps more at upper altitude resorts in northern Vermont, New Hampshire and Maine, though. And season pass deals for 2017-18 are starting to appear.
That is definitely not the case in the West where yet more snow will be falling this weekend.  The California drought is definitely over, and we hear there will be skiing at Mammoth on July Fourth.  Which raises a question: How much skiing is too much?  Is there such a thing? Several years ago, we recall that Alta kept its lifts going well into the spring, but skiers didn't show up. On to other things?
This weekend, we travel to Stowe, VT, to attend the International Ski History Association's US Ski and Snowboard Hall of Fame induction ceremony.  We will salute SeniorSkiing.com Advisory Board Members Bernie Weichsel and Gretchen Rous Besser, both of whom have contributed to the industry for decades. Among other things, Bernie is the impresario of the Ski and Snow Board Shows, and a major player in ski business, from enticing European skiers to come to the US to an highly active role in ski history museums across the country.  Gretchen's laurels are associated with the National Ski Patrol as an historian, author and journalist. Other inductees include Michael Berry, National Ski Area Associations leader, Dan and John Eagan, ski action movie stars and ambassadors, Ellen Post Foster, racer and founder of the USSA Youth Ski League, Jeff Hastings, ski jumper and founder of USANS, Marion Post Caldwell, pioneering freestyler, and, posthumously, Chuck Lewis, racer, coach, and Vail entrepreneur.
Articles this week include Part Two from Jackson Hogen about top all-mountain skis of all times.
We also have a fascinating video clip showing the difference in snowpacks in the Sierra from 2015 to 2017.  Clearly an exceptional year.
Co-publisher Jon Weisberg describes some results from our recent Subscriber Survey 2017, revealing that seniors are embracing online ski ticket purchases.
Finally, frequent contributor and ski instructor Pat McCloskey offers advice on how to tell you've had a good ski lesson.  His article is in response to last week's post, Taking A Lesson At 72.
Thanks for reading SeniorsSkiing.com.  We are transitioning to late spring and early summer story themes.  If you have suggestions, please let us know.  Meanwhile, remember: There are more of us everyday, and we aren't going away.