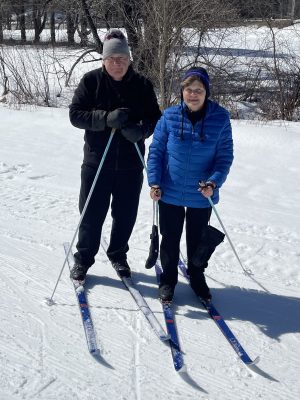 Herman Smith Johannsen also known as Jackrabbit Johannsen was known for cross country (XC) skiing at 102 years old. He was a man who popularized XC skiing in Quebec and later in America. He lived until he was 111 and was always inquisitive about what was on the other side of the hill. The Jackrabbit kids' ski program in Canada was named for him and there was also a Jackrabbit ski wax. I don't know if there is a direct correlation for Johannsen proving that XC skiing helps you live longer, but it is a nice theory.
Among the 4-5 million American XC skiers, about 11.2% are aged 55 or older while 30% of the general population falls into that age group. For those elder individuals who live in or near snow country, they might want to consider the benefits of XC skiing to help them live healthier and longer lives like Johannsen.
As a recreational activity, XC skiing is one of the most acknowledged forms of aerobic exercise and there is scientific evidence that the sport's characteristics are excellent for mental well-being, too. Recommendations are for older people to undertake vigorous physical intensity (exercise) for 75 minutes per week or moderate intensity for 150 minutes each week. XC skiing is a sport that even when done at a slow pace can raise the heart rate for fitness. The well-being associated with XC skiing is derived not only from the physical exercise involving all the body muscle groups, but it is an outdoor activity that takes place in nature in the winter. This "forest bathing" or immersion in nature has been explained in the book "The Nature Fix" and according to scientific evidence besides the fitness biological benefits, there are very positive psychological and medicinal impacts derived from the activity. The sensory experience of getting outdoors is a kind of eco therapy and a prescription for lowering stress, restoring attention, and boasting mental health and cognitive clarity.
Many XC ski areas offer programs catering to elders from weekly meet-up group outings to special lesson programs and of course, discounted rates for those aged 65 and older. The social aspect of XC skiing occurs when meeting others on the trail junctions or in the lodge and evidence shows that interacting with friends and family is significant factor for living a long and healthy life.
Ski lessons (or a refresher clinic) are recommended to make the sport easier and more satisfying. Ask for an instructor who specializes in teaching older skiers.
Some recommendations for older XC skiers include talking to the doctor if uncertain about strenuous exercise (and remember that you are able to take it easy and ski at a slow pace). There are tips for first timer XC skiers at https://www.xcskiresorts.com/resort-features/2022/1/7/best-secrets-about-cross-country-skiing which suggest to stay within your limits and not to ski too long or too far. Going to a XC ski area is a great idea because the trails are groomed and tracked which makes the sport easier. Additionally, the ski area will have patrollers, rental equipment and ski instructors to provide technique pointers if needed. The new XC ski gear for skiing on a groomed trail is light and lively. The bindings are adjustable to give the skis more glide (go faster and glide further) or more grip (go slower) and this adjustability can also help address how the ski performs in different snow conditions. If a trail is too steep another option is available as it is not a crime to remove the skis and walk down the difficult section (or side step on the skis to avoid speeding out of control).
Another good idea is to know where you are going and where you are on the trail network. Many trail configurations can be confusing and you don't want to get lost particularly if you are tired. Check the trail signs along the trails and carry a trail map if one is available – and check the map to know where you are in the trail network.
Dressing for cross country skiing is about layering (see What to Wear article at https://www.xcskiresorts.com/new-blog/2016/7/21/cross-country-skiing-apparel) with a light  base layer, a shirt and a light jacket. Only use heavier layers when it is very cold because overdressing can be a problem as you create heat when XC skiing. Keep in mind that you can remove layers if you become overheated. Socks, gloves and a hat are important components of your outfit and each plays a key role in keeping you comfortable. 
Socks should be comfortable and keep your feet warm and dry. There are many brands of ski socks that are produced to perform. XC ski gloves are available in various thicknesses and if you have problems with the cold, get a heavier XC ski glove or mitten but avoid alpine ski gloves because they are too heavy and are not made for the movement with XC ski poles. Hats could include a lightweight knitted cap or a headband. If your jacket has a hood, that works perfectly on a very cold day.
Sunglasses can minimize the glare off the snow but they also keep the wind out of your eyes. Another job for sunglasses may include improving flat light on the trails, but for the most part this is less important because XC skiing is not too fast so you can handle terrain without worrying about the visibility due to flat light.
Injuries are minimal with XC skiing but be aware of issues such as falling, exhaustion, dehydration (always bring water and take gulps a few times on your outing), and frostbite (if it is very cold). If you are not a regular XC skier, expect to be sore in some muscles (such as back, neck, arms or legs) on the day following your outing and Advil should successfully address such soreness.
When done regularly XC skiing is soft on the body and delivers a general well-being that it can bring you. Hopefully these tips will help you to enjoy the winter outdoors on XC skis!