This Is The Utah Bucket List Resort Few Visiting Skiers Ever See.
I kept hearing three sounds at Brighton on December 22, the first day of Winter, 2015. Early morning trail runs were knee deep. As more people arrived, I entered the forest. There were places where depths reached my thighs.
Sound One: Teen-fueled screech of Yippee! HooHaw! YowWee!
Sound Two: Less frequent and muffled thunder of avalanche bombs.
Sound Three: My quiet laughter in moments of pure joy.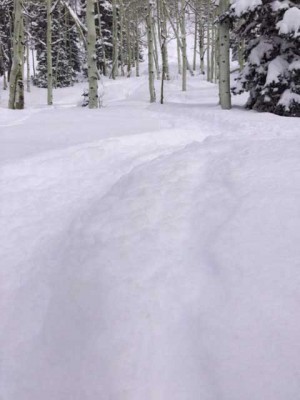 Brighton is Utah's oldest resort. It was started in 1936 and is at the end of gorgeous Big Cottonwood Canyon road, 14 serpentine miles, including two linked hairpin turns. It's next to Solitude, and both can be skied for a slight ticket premium.
Brighton is a local's favorite and known for its boarders. But it has a longstanding following of older skiers and should be on our collective bucket list.
Snow and Terrain
Big Cottonwood Canyon is a natural snow machine, funneled toward Brighton. It reliably receives 500″ most seasons; trading position for deepest dumps with neighboring Solitude, Alta, and Snowbird; often drawing the envy of Deer Valley and Park City. By road Park City and Little Cottonwood areas are a distance; by crow, they're wing beats away.
The area has 1,745′ of vertical, rising from 8755′ to 10,500′. Advice to older skiers not accustomed to higher elevations: take it easy and stay hydrated.
Brighton offers the full suite of green, blue, and black terrain spread over 1000+ acres, all reachable by high-speed chair. There are 66 runs and an endless selection of glades. Parts of Millicent Bowl are steep, open, and wide.
The Sol-Bright trail connects Brighton and Solitude for those who want to ski both resorts. This requires purchase of the premium Sol-Bright lift pass.
Lot to Lift Access
The area is shaped like an amphitheater, with parking lot positioned as stage. Wherever you park, you're not far from lodge or uphill conveyance; no tiring hikes from car to lift. A very nice arrangement.
Like many Utah resorts, Brighton is not far from the airport, making a good same day option for those arriving early. Brighton also offers reasonably priced morning- and afternoon-only tickets.
If you're not staying at the mountain — there are only a few options — there are many places in the Salt Lake Valley, some as close as 20 minutes. Next door, Solitude has lodges and condos.
Culture
Two words: FRIENDLY and HELPFUL. People go out of their way to make you feel welcome. It's real.
Brighton is old-in a good way. Lifts are modern, ski shop and rental shops, respectable. Other than coffee and roll in Brighton Lodge, I was unable to sample its fare. I'll do that on another visit and update this report accordingly.
Bottom Line
Day pass (for 70+): $50; season pass, $525.
Excellent and easily accessed terrain.
Watch for boarders.
Trail Map
http://www.brightonresort.com/mountain/trail-map/